TrackIR Handheld Thermal Imaging Monocular Scope for Hunting, Infrared Thermal Night Vision Scope with Quality Image
Description
Description for Guide TrackIR Thermal Imaging Monocular with 50HZ and 640X480 IR Resolution
TrackIR series is Guide's new generation handheld thermal imager with 400x300 pixels IR sensor and 1280×960 HD display. Provide adaptable and excellent thermal imaging for hunting, outdoor, rescue, and law enforcement. Support smooth zoom, stadiametric rangefinder, image quality adjustment, picture-in-picture functions. At a high frame rate of 50Hz, TrackIR captures sharp thermal imaging throughout dynamic and rapid motion. It also support external connect accessories to realize more functions.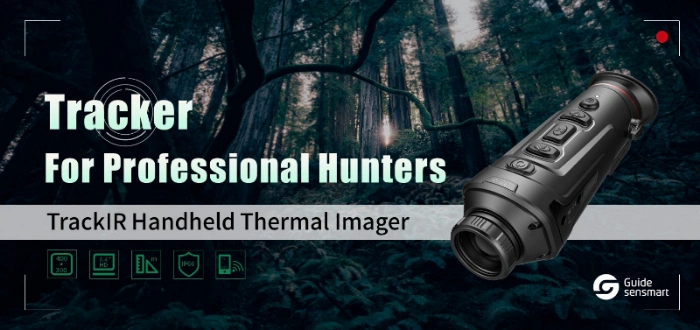 Features
Features for Guide TrackIR Thermal Imaging Monocular with 50HZ and 400x300 IR Resolution

1280×960 HD Display
Full-color 0.4-inch HD display with 1280 x 960 pixels, the image is crisper and more delicate, feel like watching 22-inch screen at 1 meter, which greatly improves the observation comfort.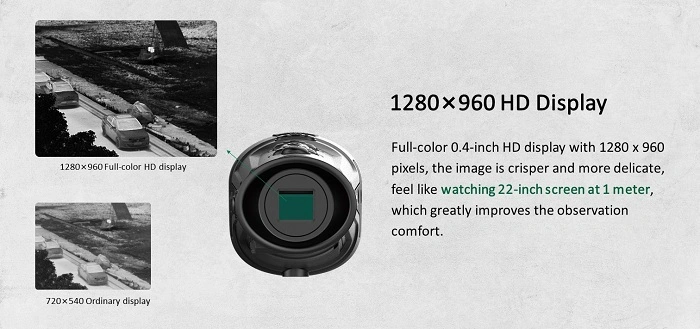 Build-in Stadiametric Rangefinder
Stadiametric rangefinder can accurately measure the ranging of observed objects with known height (deer - 1,7 m; boar - 0,7 m; Rabbit - 0,3 m)., and the real-time ranging information will be shown both on the thermal imager and the smartphone APP.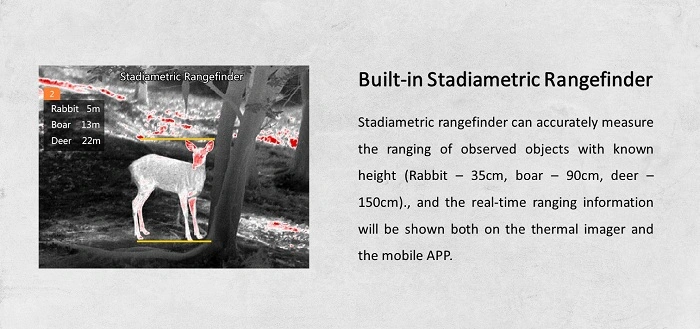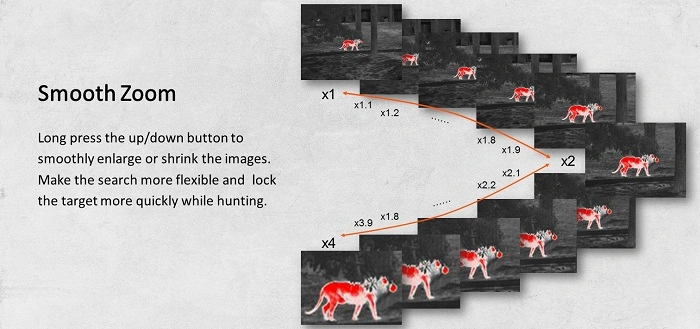 Mobile-friendly APP for Remote Control and Steaming
It supports image quality adjustment, color palettes switching, smooth zoom, photography, video recording, hot spot tracking, and other operation settings to meet the needs of different users.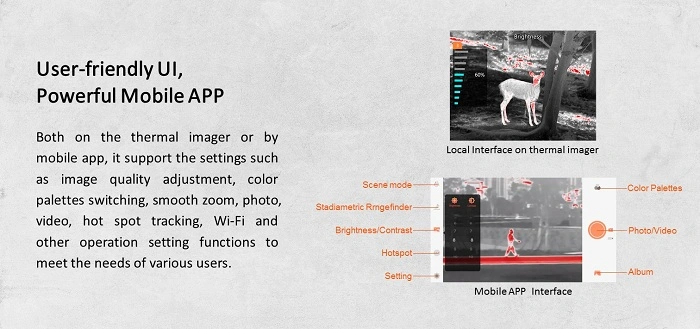 Multiple scene modes to highlight the target
Five scene modes of "Forest/Desert/Snow/City/Default" can be quickly switched by one button, and the image can be adaptively adjusted for different scenes to highlight the target in the background.

Excellent ergonomic design
With easy-distinguished button, the target button can be quickly recognized by touch even in the total darkness.
With modern streamlined appearance and ergonomic design, which allow you to observe the target for a long time without tired.


External connectable design for more applications
Standard picatinny rail, support connect the external display, rangefinder and other accessories, which is suitable for camping security, night patrol, law enforcement, search and rescue, personal security and many other applications.


IP66, rugged and durable, Quality guaranteed
With IP66 protection level, anti-1 meter drop, suitable for all kinds of hot or cold weather. It also passed the certification such as UN38.3 battery certification, RoHS, CE, FCC certification, etc.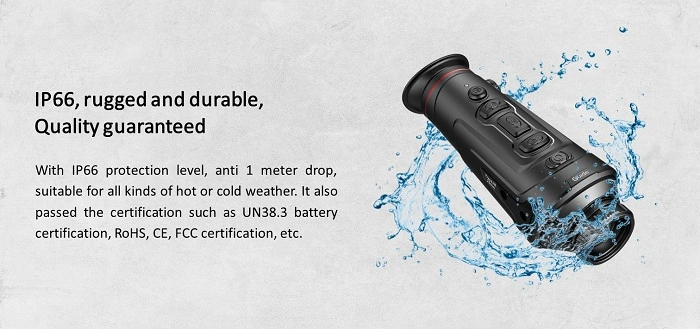 Specification
Specification for Guide TrackIR Thermal Imaging Monocular with 50HZ and 640X480 IR Resolution
Model

TrackIR Pro 19mm

TrackIR Pro 25mm

TrackIR Pro 35mm

Detector

Detector Type

640×480@12μm, VOx

Spectral

8μm

~

14μm

NETD

≤

50mk

Lens

Focal Length

19mm F1.0

25mm F1.0

35mm F1.0

Focusing

Manual Focus

FOV

22.9×17.2

17.5×13.1

12.5×9.4

Display

Screen

1280×960 , 0.4 inch

,

Color LCOS Display (Feel like watching 22 inch screen at 1 meter)

Eyepiece

Monocular, Exit pupil

≥

10mm, Adjustable diopter-4~

+

2

Magnification

1.1-8.8X

1.5-12X

2.0-16X

Imaging

Frame Rate

50Hz

Digital Zoom

1X~8X (Smooth zoom)

Color Palettes

White Hot, Black Hot, Iron Red, Blue Hot, Red Hot (TrackIR PRO: Adjustable Red Hot)

Scenes Modes

Enhanced, Highlignt, Natural

Picture-in-picture

Picture-in-picture enlarged image is displayed on the upper left, upper middle or upper right

Functions

Photo

√

√

√

Video

√

√

√

Hotspot tracking

√

√

√

Stadiametric rangefinder

√

√

√

Wi-Fi/APP

Wi-Fi share photo and video, also can controlled by app

(

IOS & Android

)

Compensation Modes

Auto Compensation / Shutter Compensation / Scene Compensation

Indicate Box

Red,/yellow/green, the coordinates of the indicate box is adjustable

Other

image enhancement, brightness and contrast of image are adjustable, auto power-off,
auto sleep, super power-save mode, the work indicator could be shut off

Power Supply

Battery Type

Internal Li-ion battery (2x18650, 6000mAh)

Working Time

≥

4.5h

Interface

USB

TYPE C (USB 2.0 standard ) for charging, data tranmission

Video Output

Micro HDMI

External Connection

External Connection by a Picatinny rail

Memory Card

16 GB

Environmental Characteristics

Operating Temperature

-10

ºC~

50

ºC

Storage Temperature

-30

ºC~

60

ºC

Encapsulation

IP66

,

1-meter drop test

Certificate

UN38.3 (Battery certificate), RoHS, CE, FCC, EAC

Weight & Dimensions

Weight

490g

490g

560g

Dimensions

192×65×71

214x65x71

Package Contents

Standard

Power adapter,USB cable,Micro HDMI cable,Lens cover,Wrist strap,
Shoulder strap,Lining package,Quick Start Guide

Optional

External Picatinny rail, External screen and etc…

Detection Range

Human

:

1.8m×0.5m

800m

1000m

1400m

Vehicle

:

2.3m×2.3m

1850m

2400m

2800m

Recognition Range

Human

:

1.8m×0.5m

400m

500m

700m

Vehicle

:

2.3m×2.3m

800m

1000m

1400m