Specification details
Model

DW

2041

D

W

-D3041

IIT

Gen2+

Gen3

Magnification

1X

1X

Resolution (lp/mm)

45-64

57-64

Photocathode type

S25

GaAs

S/N (dB)

12-21

21-24

Luminous sensitivity(μA/lm)

450-600

1500-1800

MTTF (hrs)

10,000

10,000

FOV (deg)

40

40

Detection distance (m)

220-280

250-320

Diopter (deg)

+5/-5

+5/-5

Lens system

F1.2, 25.8mm

F1.2, 25.8mm

Range of focus (m)

0.25--∞

0.25--∞

Dimensions (mm)

110 x 136 x 42

110 x 136 x 42

Weight (g)

620/656(with battery)

620/656(with battery)

Power supply (v)

2.0-4.2V

2.0-4.2V

Battery type (v)

CR123A (1) or AA (2)

CR123A (1) or AA (2)

Battery life (hrs)

80(w/o IR)




40(w IR)

80(w/o IR)




40(w IR)

Operating temperature(°C)

-40/+40

-40/+40

Relative humility

98%

98%

Environmental rating

IP66

IP66
Products Feature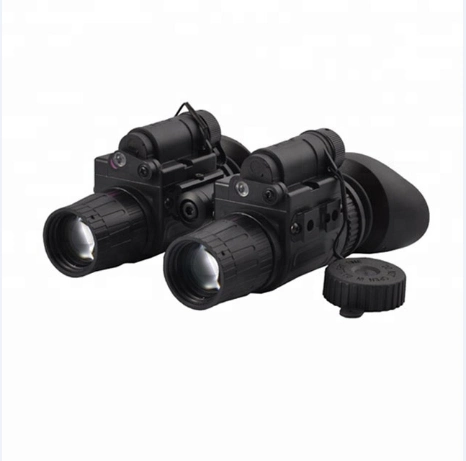 1.IP67 weatherproof: The device can work even under 1m water for 1 hour.
2.Automatic shut off when flipped up: The device will turn off automatically when pushing a button on the side of mount and lifting the unit up until reaches in the top position. Push the same button to lower monocular to the viewing position, then the device will turn on for continuation of operation.
3.No power consumption when in standby: It means no power consumption in case you forget to remove the battery for some days.
4.Embedded spring in battery's cap: It makes screwing the cap easier and better protect the spring and contact with the battery.
5.Fully adjustable head mount: The head mount can be adjusted according to head size.
6.Mil-spec multi-coated optic: Multi antireflection film can restrain the reflex of lens, which can reduce the loss of light so more light can go though the lens to get a sharp image.
7.Automatic brightness control: When the ambient light changes, the brightness of the image detected will keep the same to insure a stable viewing effect and also to protect users' eyesight.
8.Bright source protection: The device will shut off automatically in 10 seconds to avoid the damage of the image intensifier tube when the ambient light exceeds 40 Lux.
9.Low battery indication: A greenish light in the edge of eyepiece will start flickering when the battery is running low.