Long Range Monocular Handheld Night Vision Thermal Imager Guide IR510 Nano
New thermal imager for night vision
Product Description
Featuring a 400X300 resolution sensor, smooth 50HZ

frame rate, IR510 Nano displays the heat emitted by animals, humans, and terrain-day or night-and has multiple applications for legal hunting, camping, land management, and outdoor recreation.
It's time to upgrade your IR510 series. Connected to mobile APP via Wi-Fi, the new IR510 series can be remote controlled to display synchronously, take photos and videos. Compared with the last version, it provides superior image, longer detection range and advanced algorithm, helping to pick up the targets.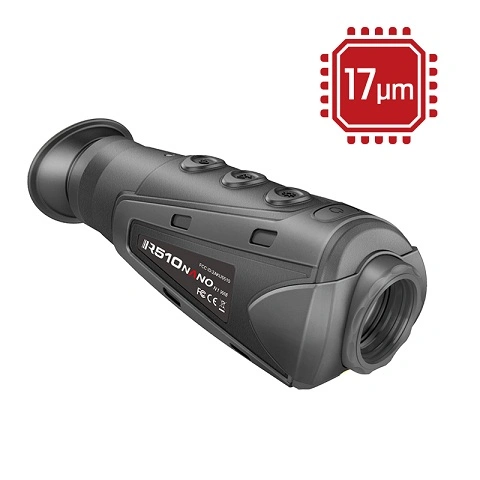 Application
Search and Rescue
Law enforcement
Personal Vision System
Outdoor
Recreation
Smart home

Main Features
•The IR510 N1 (wifi) detects heat signatures of people, animals, Vehicle and terrain up to 1300m away with better image.
• Wi-Fi for remote control, to display synchronously, take photos and videos
• Imaging better, detect further, highlight the target easier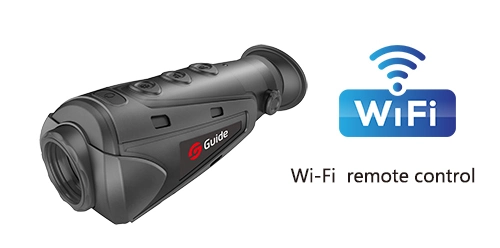 • With its small pocket size and ergonomic design, which allows you to scan vast areas for long period of time without arm fatigue
• Built-in battery life up to 5h, external power supply available
• The length is 16cm, weight is about 350g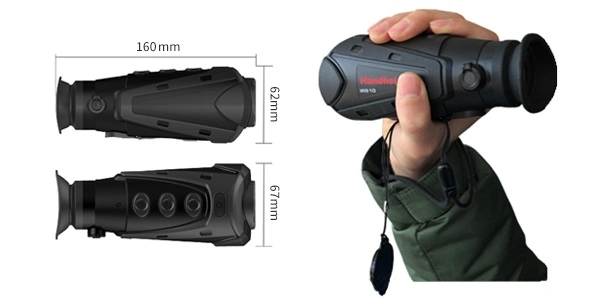 • It is wrapped by rubber and can prevent from rain, dust, shock
• Easy operation with only three buttons Silent and lightproof design to prevent exposure
• IP66 protection and 1m drop test passed to suit the wild
• Standard analog video output interfaces
• Standard Micro USB interface for data transmission and charging
• Adjust the diopter to improve the sharpness of the image for different users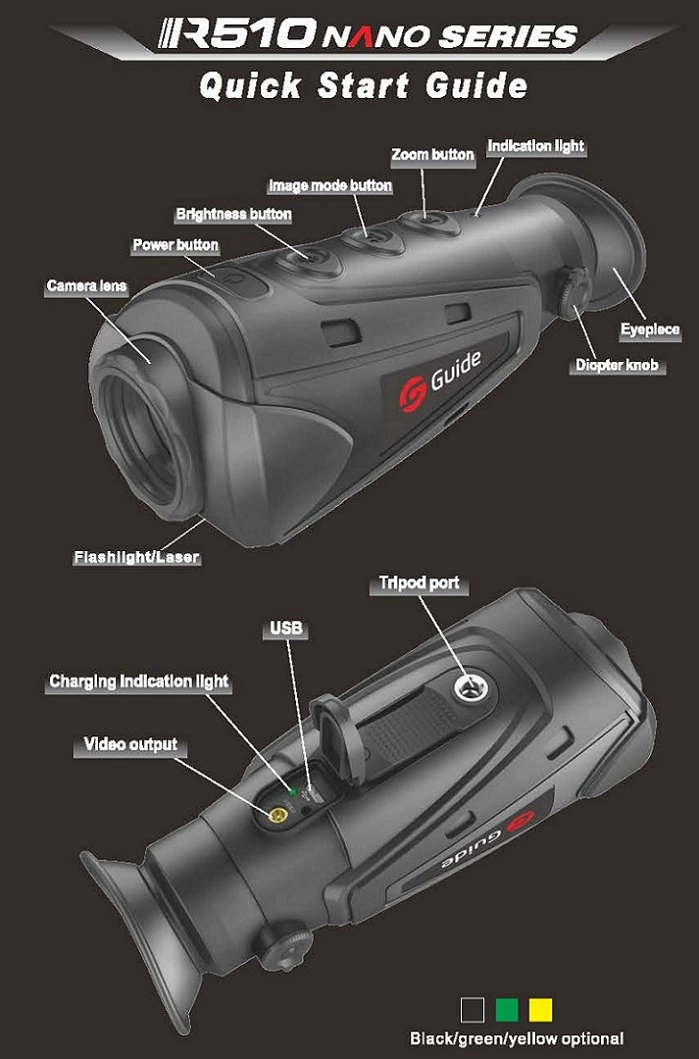 Accessories
• Standard accessories: Power adapter, USB charger, Video cable, Lens cap, Wrist strap, Soft drawstring bag, User manual, Certificate Card
• Optional LED flashlight or laser indication light
• Optional 40mm
lens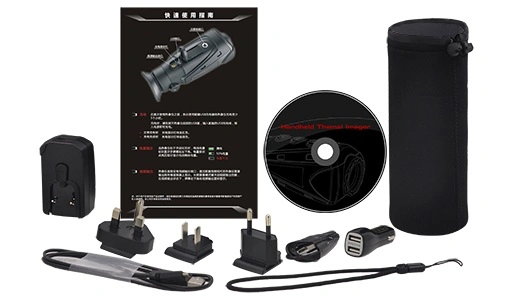 Technical Parameter
IR510 Nano Series

IR510 N1

IR510 N1 WIFI

IR510 N2

IR510 N2 WIFI

Detector

Detector Type

400×300@17μm

Spectral Range

8μm~14μm

Lens

Focus

19mm

25mm

Focusing

free

Manual

FOV

19.0°×14.5°

14.6°×11.1°

Screen

Colorful 0.2″LCOS

Viewfinder

Monocular, diopter adjustable±4

Image

Frame

50Hz

Digital Zoom

×2, ×4

Color Palette

Black hot, white hot, red hot 1, red hot 2, red hot 3

Function

Photograph

×

×

×

×

Additional functions

Illuminator or laser pointer




or neither

Illuminator or laser pointer




or neither

Illuminator or laser pointer




or neither

Illuminator or laser pointer




or neither

Cross cursor

√

√

√

√

Image enhancement

×

√

×

√

Wi-Fi

×

√

×

√

Zoom

√

√

√

√

Freeze

√

×

√

×

Charging indicator

√

√

√

√

Active indicator

√

√

×

√

Power

Battery

Internal Li-ion battery,3.7V,3200mAh

Working Time

≥5h

Adapter

Standard USB power adapter, max 10W

Interface

USB

Charging

Video Output

MCX Connector, PAL/NTSC

Environment Characteristics

Working Temperature

-10ºC~50ºC

Storage Temperature

-30ºC~60ºC

Humidity

10%~95%

Shock

10Hz~150Hz~10Hz 0.15mm IEC60068-2-6

Encapsulation

IP66

Drop

1m drop

N/A

Physical Parameter

Weight

350g

375g

Size

160mm×67mm×62mm

168mm×67mm×62mm

Package

Standard accessories

thermal imager/ power adapter/ USB cable/ video cable




/lens cap/ wrist strap/ shoulder strap/ soft drawstring bag/ user manual

Optional accessories

N/A

40mm extender lens(FOV:9.3°×7.0°)

Detection Range

Human:1.8m×0.5m

500m

700m

Vehicle:2.3m×2.3m

1300m

1700m

Recognition Range

Human:1.8m×0.5m

300m

350m

Vehicle:2.3m×2.3m

500m

700m
Guide IR510 N1 Handheld Thermal Monocular Night Vision Camera for Hunting, Outdoor, Patrol, Search and Rescue 400X300@17μm, 50Hz