night vision monocular with rotary switch of D-M2021

Reality Show: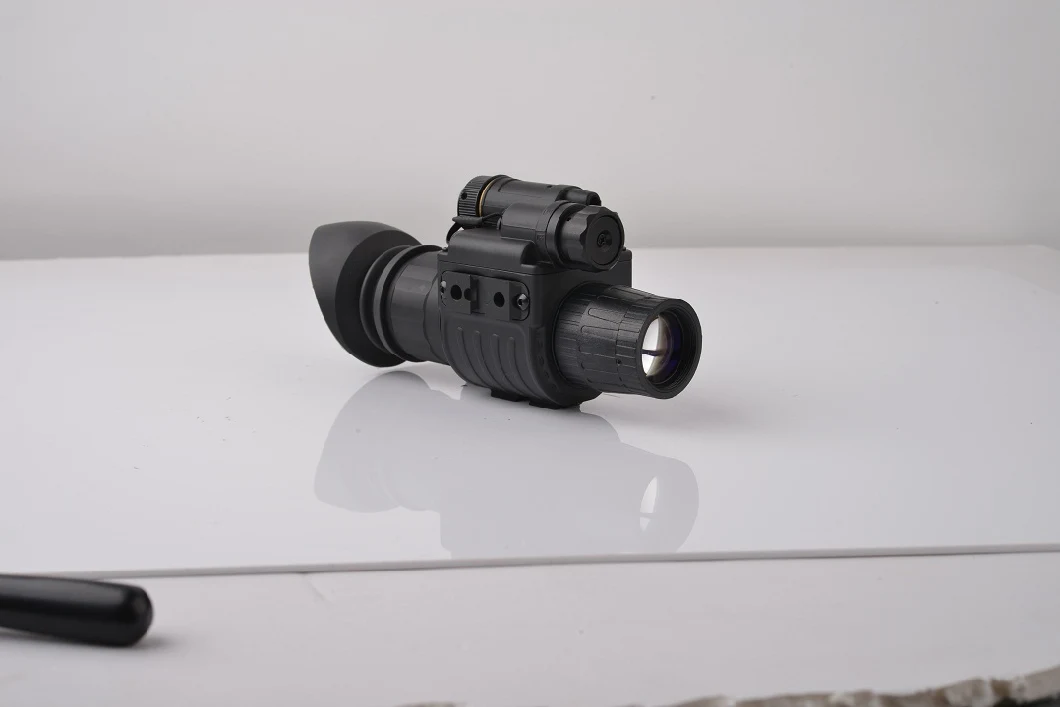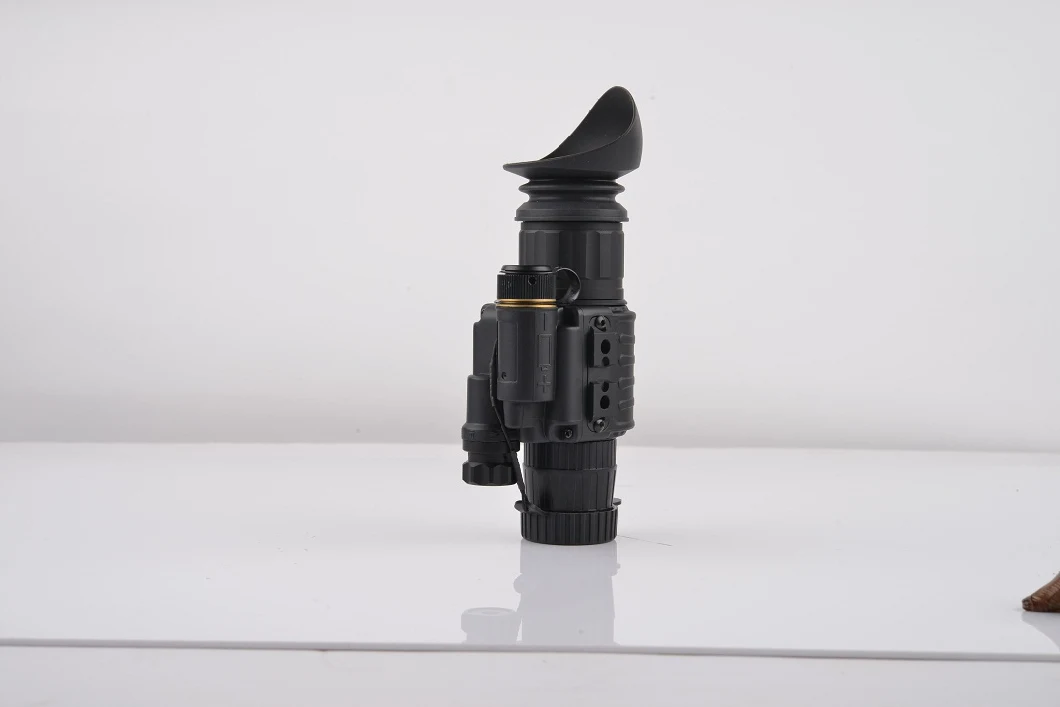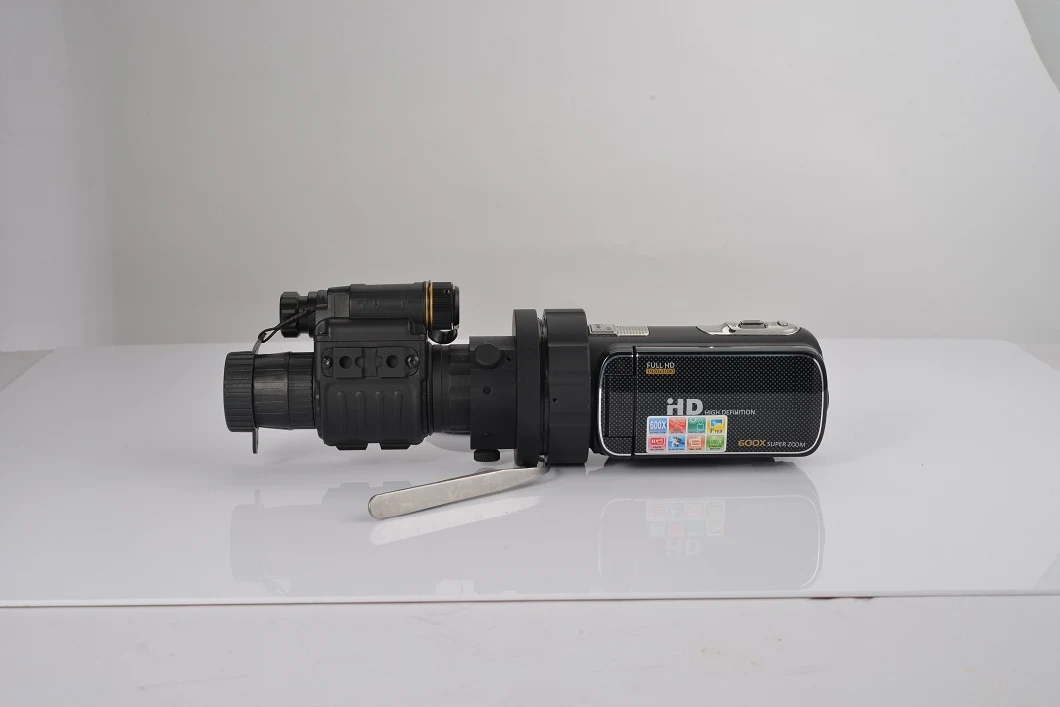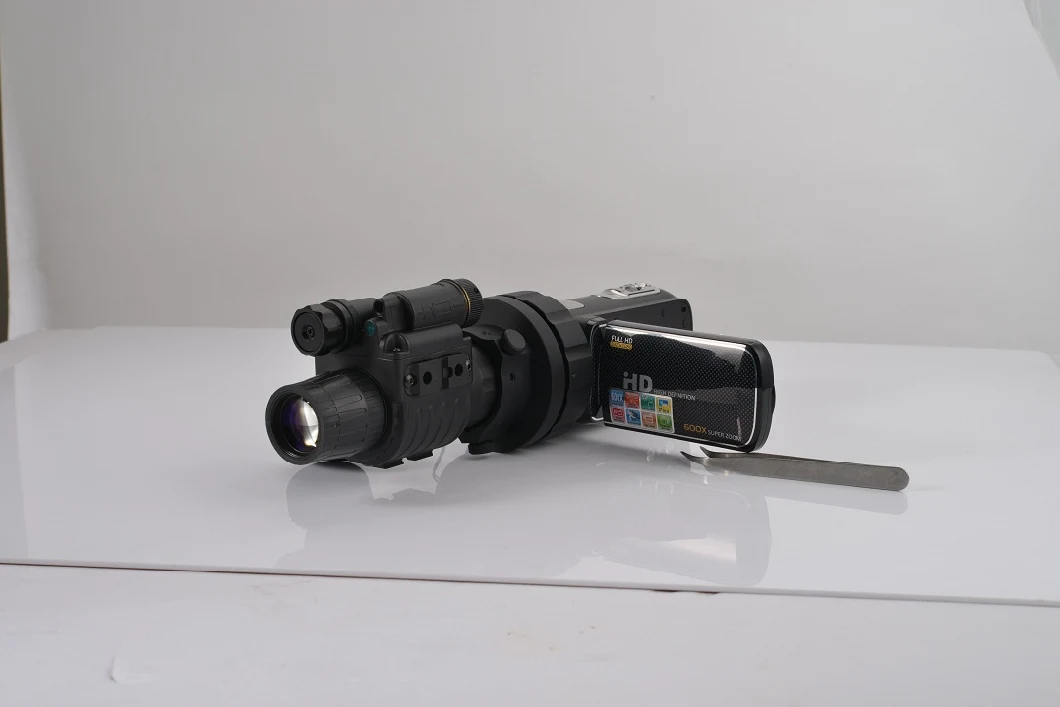 Night vision Factory Info:




A. Product Description:
This body includes the eyepiece, objective lens, PCBs, electronic components and housting etc. Fitted with a IIT inside, it can be a working unit.
B. Model Explanation:
The 1st letter "D": the abbreviation of our brand Daking
The 2nd letter "M": Monocular (the device type)
The 1st number 2/3: generation 2 / 3 (IIT grade)
The 2nd and 3rd number 02: item numbers
The 4th number 1: magnification for objective lens
C. Specifications:
Model

D-M2021

IIT

Gen2+

Resolution (lp/mm)

45-64

Photocathode type

S25

S/N (dB)

12-21

Luminous sensitivity (μА/lm)

450-600

MTTF (hrs)

10000

Magnification

1x

FOV (deg)

40

Detection distance (m)

220-280

Diopter (deg)

+5/-5

Lens system

F1.2, 25.8mm

Range of focus (m)

0.25--∞

Dimensions (mm)

140x77x56

Weight (g)

373

Power supply (v)

2.0-4.2V

Battery type (v)

1 3V CR123A lithium battery

Battery life (hrs)

80(w/o IR)

40(w IR)

Operating temperature (ºC )

-50/+60

Storage temperature(ºC )

-50/+70

Environmental rating

IP66
D. Kit includes
Night Vision Body, Protective carrying bag, Warranty card.
E. Features
* IP66 weatherproof: This product is available against domestic water.
* Automatic shut off when flipped up: The device will turn off automatically when pushing a button on the side of mount and lifting the unit up until reaches in the top position. Push the same button to lower monocular to the viewing position, then the device will turn on for continuation of operation.
* No power consumption when in standby: It means no power consumption in case you forget to remove the battery for some days.
* Embedded spring in battery's cap: It makes screwing the cap easier and better protect the spring and contact with the battery.
* Fully adjustable head mount: The head mount can be adjusted according to head size.
* Mil-spec multi-coated optic: Multi antireflection film can restrain the reflex of lens, which can reduce the loss of light so more light can go though the lens to get a sharp image.
* Automatic brightness control: When the ambient light changes, the brightness of the image detected will keep the same to insure a stable viewing effect and also to protect users' eyesight.
* Bright source protection: The device will shut off automatically in 10 seconds to avoid the damage of the image intensifier tube when the ambient light exceeds 40 Lux.
* Low battery indication: A greenish light in the edge of eyepiece will start flickering when the battery is running low.
F. Precations:
1. Do not disassemble the unit.
2. It's better to use device under +5°C to +40°C. After the unit usage in temperatures below zero, wait at least 3 hours at room temperature, to avoid condensation accumulating on the internal lens surfaces and the consequent fogging caused by extreme temperature differences.
3. Keep the device in soft carrying bag, ventilated and dry place with temperature which does not exceed +15°C. Keep away from heating device and avoid direct sunlight and high humidity which does not exceed 70%.
4. NVD should be used in nighttime and can't be aim at strong light. If you have to test it during daytime, the front lens cap should never be removed. You can observe the target through the hole in the protection cap.
5.Use good quality lithium battery or alkaline cell, as bad quality batteries will effect the performance of the NVD and easily damage the device.
6. Try to avoid the rain and mist, and avoid dropping, shaking and collision.
7. Use clean soft cloth and dampened in alcohol,if necessary.
8. A useful tip is to remove the battery when the night vision will be not in use for over 3 days to prevent battery leakage and damaging the device.

NOTE: It is normal that the device can not be turned on when the ambient light exceeds 40 Lux. This device has protection system, which cuts off the image intensifier when ambient light level exceeds the limit of 40 Lux during a 10 seconds period.
Failure to follow the above precautions may cause the unit damage and will void the manufacturer's warranty.

G. Troubleshooting:
If the device does not turn on
1.Reinstall the battery with the correct polarity.
2.Replace battery.
3.Clean the battery compartment, focusing on the contact points.
The observed image flickers or flashes
This means there is too much light(e.g. observation during twilight conditions).Turn off the unit or place the objective lens cover. The unit will function normally in light conditions not in excess of 0.1Lx(full moon).
The image is missing or not focused
1.Re-focus the unit by adjusting objective lens. Adjust diopter setting by rotating eyepiece, if necessary.
2.Check the cleanliness of the objective surface and eyepiece and clean if necessary.
3.Replace batteries.
4.In extreme low light conditions, activate the built-in IR illuminator.
Image disappeared or its quality worsened
1.Automatic shut off might occurred to protect the unit from excessive light. Attach the objective lens cover and ensure that unit started to function normally. Turn the unit off and wait until the conditions darken to continue observation.
2.Bright light sources(e.g. street lights)may cause visibility to decrease or disappear. Turn the monocular away from the light source, visibility will restore itself in several minutes.
You see black dots on the screen
These dots are minor cosmetic blemishes resulting from the image intensifier production processes and are not a sign of a defective or low quality unit. These dots do not interfere with the reliability and performance of the monocular.

H.Testing for all our devices:

vibration test, high temperature test, lens resolution test, rain test, waterproof test, glass transmittance test, shock resistance test etc.

I. Warranty :
Our warranty is 1 year from the date of purchase. For detailed warranty info, please refer to Daking's Warranty Service.

Warranty Service:
Warranty period:
Our products shall conform to design, manufacturing and performance requirements and be free from defects in material and workmanship for a period of ONE years(1) from the date of pruchase. If any products are defective, please notify our company as soon as possible.
This warranty does not cover a product:
1. used in other than its normal and customary manner;
2. subjected to mishandling, abuse, misuse,improper storage;
3.subjected to alterations, modifications or repair by the customer of by any party other than our company without prior written consent of our company;
4.merchandise that has been discontinued by the manufacturer and either parts or replacement units are not available due to reasons beyond the control of our company;
5.subjected to improper operation, including use in conjunction with equipment which is electrically or mechanically imcompatible with or of interior quality to the product;
6. failure to maintain the environmental conditions specified by our company;
7.operation of the units during daylight hours and under any excessive light conditions;
8. beyond 1 year limited warranty period;
9. force majeure.
Procedures:
Before sending defective product back, please Email your sales representative a sharp photo defective product and clearly indicates specific reasons for return, return address and contact information including contact person name, valid telephone numbers and proof of purchases that will help us to eatablish the valid start date of the warranty. Our sales representative will send you a return material authorization number( hereafter abbreviated as RMA#) after our service technician confirm it. Please clearly mark the RMA# on the outside of the shipping box and cut the warranty card along the dotted line, which lies at the last page of user manual.
Note: Products returns that do not have an RMA# listed or warranty card in the box may be refused or a significant delay in processing may occur.
Expenses:
Customer is responsible for shipping charge to our company for warranty service. Our company will cover return shipping to customer after warranty repair only if produts is covered by aforementioned warranty.
If defective products are not applicable for our company's warranty as stated above, customer will cover all costs such as shipping for sending back and returning, costs for spare parts and labor and all other expenses caused by this.
Remarks:
In the event a defect that is covered by the foregoing warranty occurs during the applicable period stated above, our company, at its option, will either repair or replace the product.