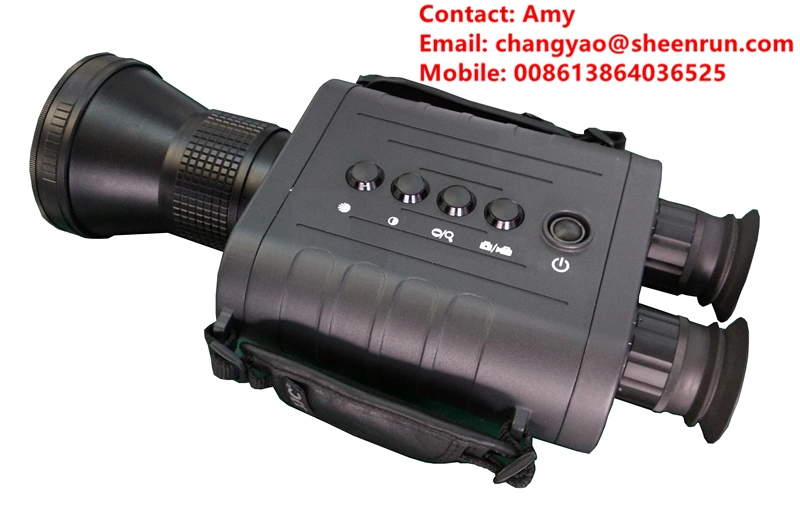 1. Introduction
The thermal imaging camera series adopt the fourth generation of uncooled focal plane infrared detector, the most advanced optics and electronic system, which have super high performance and smart shape.
The product has hard and sealed shell, inside is nitrogen, can repel rains and dusts and can work in harsh environment normally. This product can penetrate dusts, fog, rain, snow and darkness and provide clear images.
2. Main Features
• Adopt the fourth generation of uncooled VOx FPA detector, NETD at 35mk, easy to find objects.
• Special compensation circuits: No need of TEC, low power consumption
• Special Image processing technology: flat image with no noise, 9 pseudo color and 2 formats: hot black/hot white;
• DDE technology: easy to find hidden objects
• Start quickly: 2s driving time
• Portable: small size, low power consumption, easy to carry
• Built-in display: built-in mini LCD display, appropriate for hidden use.
• Power Supply: outside power supply and built-in battery
• Video output: video signal output, appropriate for connecting with other displaying or recording system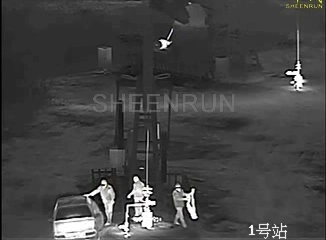 3. Technical Specifications
Effecting Distance
Detecting distance:4200m for vehicles, 1600m for people
Detector
fourth generation of uncooled focal plane infrared detector;
resolution at 324×256 pixels;
spectrum range 8~14μm;
NETD 35mk
Lens
Focal length: 100mm;
F=1.0;
FOV: 7.0°×5.6°;
GE material;
manual adjusting focus
Image Processing
1. Built-in correcting circuits, no need of TEC; working temperature -40~+75ºC, good picture uniformity
2. Dynamic Detail Enhancer(DDE)
3. 9 pseudo color and hot black/hot white formats
4. Automatic Gain Control(AGC) technology
5. 2x digital magnification
Interface
1. OSD menu
2. video output
3. DC12V, built-in 6XAA battery
4. waterproof navigation mini-outlet
Display
0.44'' color mini LCD screen
pixel: 640×480
12.5x ocular magnification
Size and Weight
size: 312mm×100mm×110mm
weight: 2.2Kg
Others
high aluminum alloy shell, smart design
working temperature: -10ºC~+60ºC
storage temperature: -40ºC~+85ºC
under PH6.5~7.2, continuous spraying fog for 48 hours
power consumption: 3.6w(normal), peak at 8w
4. Our Company
China Sheenrun Optics & Electronics Co., Ltd, which was founded in 2004, is a leading night vision equipment and rugged information equipment supplier, as well as a relying construction company of Shandong Province Academician Workstation and Night Vision Surveillance Engineering Technology Research Center. Sheenrun adheres to independent innovation, developed the world's first laser night vision camera and the first uncooled continuous zoom infrared thermal imaging camera with independent intellectual property rights, its synchronous zoom laser night vision technology and continuous zoom thermal imaging technology have reached international advanced standard level, possess the world's largest market share in laser night vision market.