High Quality 700m Infrared Digital Binocular Night Vision Goggles Guide IR510 for HuntingDetector Type: 400×300@17μmProduct Description
The Guide IR510 Nano is a pocket-sized thermal vision monocular for detecting the body heat of animals and people in any terrain, day or night. The thermal imaging monocular is used for track game, recover downed animals, watch for predators, and stay aware of your surroundings after darkness falls. Guide IR510 Nano handheld thermal monocular helps you detect people or animals over 500 meters away and detect vehicle over 1300 meters away.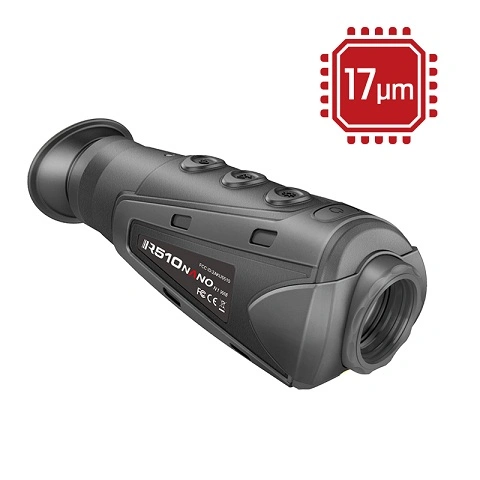 Application field
The Guide IR510 Nano is the Guide beginner level Handheld Thermal Monocular which is widely used for hunting, outdoor sports, search and rescue, law enforcement, and personal home security at night and other activities outdoor or in bad weather.
Main Advantage of Guide Thermal Imaging Monocular:
The thermal imaging monocular can detect a target in deep cover or hidden by fog.
The thermal imaging monocular doesn't require a light source. If you hunt deep in the mountains where ambient light is not available, thermal optics is your best choice.
The thermal optics could see in any light condition, night or day, seeing through brush, and tracking residual heat like recent footprints.
Main Features:
•
Long Range Detection:
The IR510 N1 detects heat signatures of people, animals, Vehicle and terrain up to 500 meters-1300 meters (700m-1700m for IR510 N2) away with better image.
•
Wi-Fi for remote control:
to display synchronously, realizing photo/video/screen sharing.
•
Small pocket size and ergonomic design:
it is more confortable to use on a long period of detection.
(length: 16cm, weight: 350g)
•
Longer battery working time:
Built-in battery life up to 5 hours, external power supply available.
•
Easy and Silent:
Easy operation with only three buttons Silent and lightproof design to prevent exposure
•
Waterproof:
IP66 protection and 1m drop test passed to suit the wild environment. It is wrapped by rubber and can prevent from rain, dust, shock
• Standard analog video output interfaces
• Standard Micro USB interface for data transmission and charging
• Adjust the diopter to improve the sharpness of the image for different users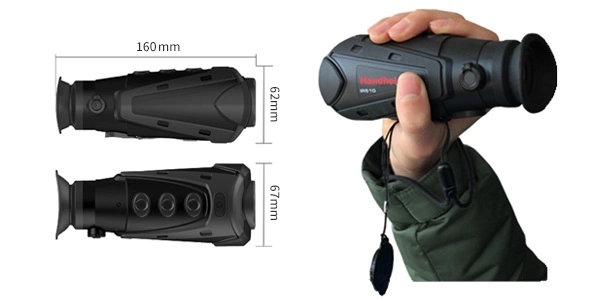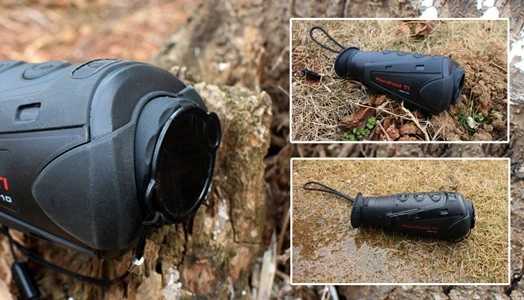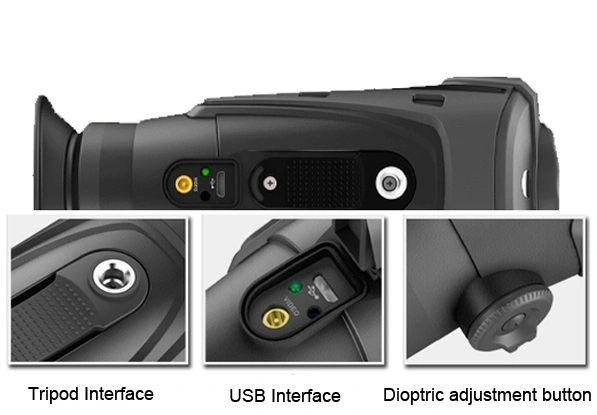 Accessories
• Standard accessories: Power adapter, USB charger, Video cable, Lens cap, Wrist strap, Soft drawstring bag, User manual, Certificate Card
• Optional LED flashlight or laser indication light
• Optional 40mm lens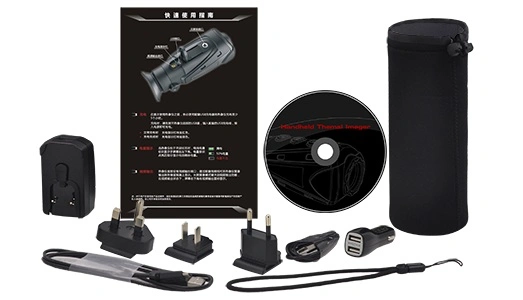 Specification
IR510 Nano Series
IR510 N1
IR510 N1 WIFI
IR510 N2
IR510 N2 WIFI
Detector
Detector Type
400×300@17μm
Spectral Range
8μm~14μm
Lens
Focus
19mm
25mm
Focusing
free
Manual
FOV
19.0°×14.5°
14.6°×11.1°
Screen
Colorful 0.2″LCOS
Viewfinder
Monocular, diopter adjustable±4
Image
Frame
50Hz
Digital Zoom
×2, ×4
Color Palette
Black hot, white hot, red hot 1, red hot 2, red hot 3
Function
Photograph
×
×
×
×
Additional functions
Illuminator or laser pointer
or neither
Illuminator or laser pointer
or neither
Illuminator or laser pointer
or neither
Illuminator or laser pointer
or neither
Cross cursor
√
√
√
√
Image enhancement
×
√
×
√
Wi-Fi
×
√
×
√
Zoom
√
√
√
√
Freeze
√
×
√
×
Charging indicator
√
√
√
√
Active indicator
√
√
×
√
Power
Battery
Internal Li-ion battery,3.7V,3200mAh
Working Time
≥5h
Adapter
Standard USB power adapter, max 10W
Interface
USB
Charging
Video Output
MCX Connector, PAL/NTSC
Environment Characteristics
Working Temperature
-10ºC~50ºC
Storage Temperature
-30ºC~60ºC
Humidity
10%~95%
Shock
10Hz~150Hz~10Hz 0.15mm IEC60068-2-6
Encapsulation
IP66
Drop
1m drop
N/A
Physical Parameter
Weight
350g
375g
Size
160mm×67mm×62mm
168mm×67mm×62mm
Package
Standard accessories
thermal imager/ power adapter/ USB cable/ video cable
/lens cap/ wrist strap/ shoulder strap/ soft drawstring bag/ user manual
Optional accessories
N/A
40mm extender lens(FOV:9.3°×7.0°)
Detection Range
Human:1.8m×0.5m
500m
700m
Vehicle:2.3m×2.3m
1300m
1700m
Recognition Range
Human:1.8m×0.5m
300m
350m
Vehicle:2.3m×2.3m
500m
700m