Guide TA435 Thermal Imaging Clip-on Rifle Scope for Hog Hunting



Clip on scope/ Thermal Imaging Scope Front Attachment/ Day Night System
Guide TA435 clip on thermal rifle scope is a truly versatile and convenient thermal imaging scope with increased options and functionality. You can use it as a dedicated thermal scope or clipped on in front of your regular day time scope for high quality night vision experience. No need re-zero, no need remove your daytime scope. Just "clip on" right in front of the daytime optics.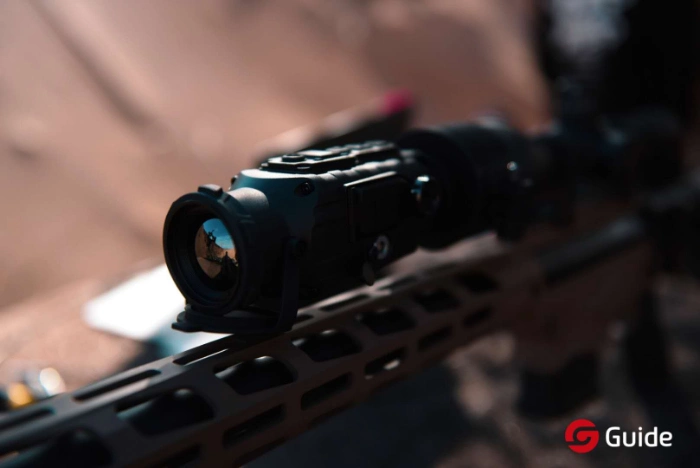 Features and Benefits
• Versatile: You can use it as a dedicated thermal scope or clipped on in front of your regular day time scope for high quality night vision experience.
• Simple & Adaptable: Switchover among five scene modes by one button, truly realizing all-weather environment self-adaptation
• Convenient: You neither have to re-zero your scope, nor do you have to remove your regular daytime scope in order to install this one. Just "clips on" right in front of it.
• Compact and lightweight: less than 400g
• OLED color eyepiece display, capable of displaying images in various color modes
• Waterproof IP67
• Super sound-off and bright light Cut-off System, prevent exposure
• Optional Bluetooth remote controller for easy operation
• Quick mount and no-shot zero (recommended magnification of the day scope/sight : 2-4X)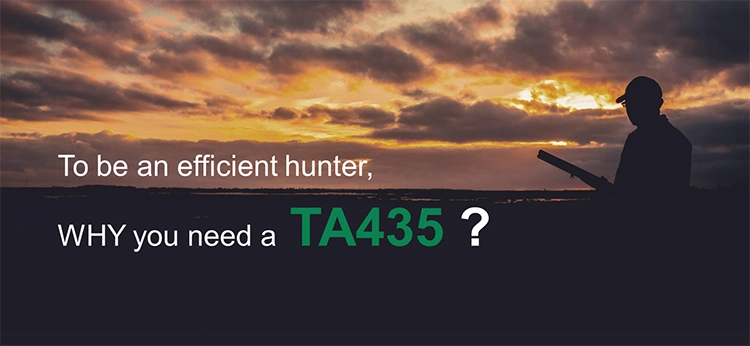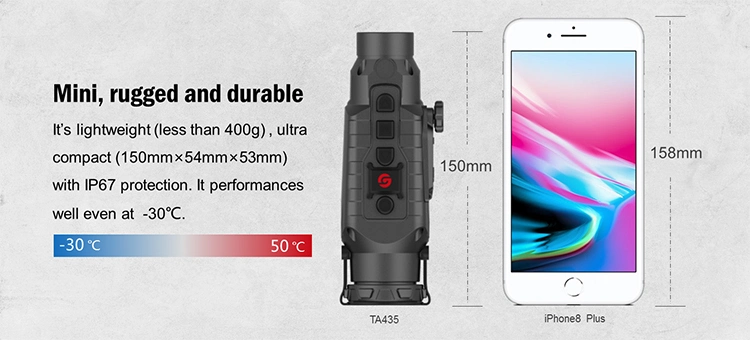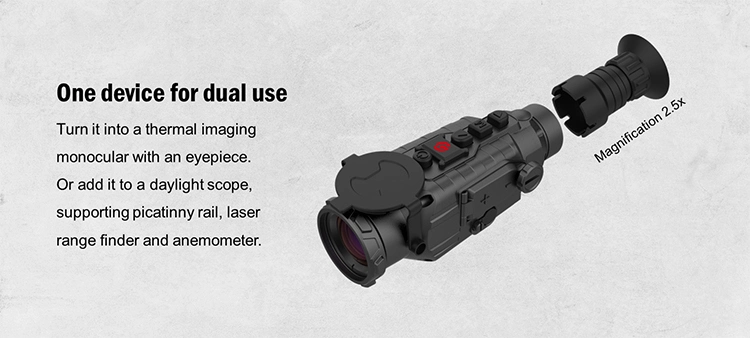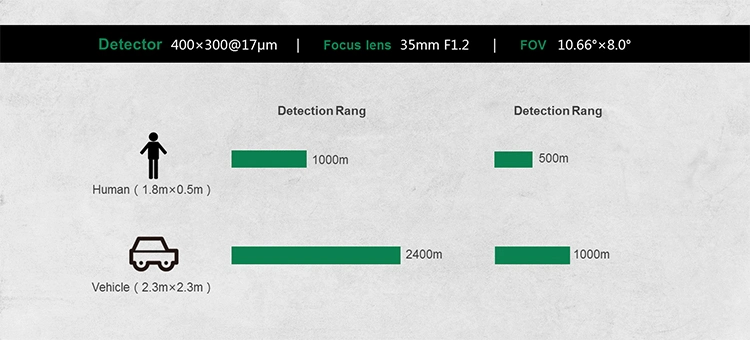 Model

TA435

TA450

Detector

Detector Type

400×300 @17μm, VOx

Spectral

8μm~14μm

Focus lens

Focal Length

35mm F1.2

50mm F1.2

Focusing

Manual focus

Display system

OLED

Colorful 0.39 inch OLED screen 1024×768

Eyepiece

Monocular, Pupil Distance 10mm, Pupil Caliber 20mm

Digital Zoom

1

Image Processing

Frame Rate

50Hz(PAL)

Digital Zoom

2×,4×

Auto Tracking

Hotspot track

Calibration

Automatic calibration/ Manual calibration (shutter) /Manual scene compensation

Power Systems

Battery

CR123A×2/ICR16340×2

Power Supply

can be powered by 5V2A external power supply

Working Time

>

3 hours@25°C

Interface

7-Pin LEMO Interface

Support video output and external power supply

Environment parameter

Operating Temperature

-30°C-50°C

StorageTemperature

-45°C-70°C

Humidity

Working and storage10% ~ 95%, Non condensing

Impact

500G/1ms

IP level

IP67

Certificate

CE/RoHS/FCC Certificate

Physical Characteristics

Weight

≤400g

≤450g

Size

150mm*52mm*57mm

178mm*58mm*62mm

Package

Standard

Blinder, Carrying bag,Charger, User manual, 7-Pin Lemo to USB cable, Warranty

Optional

External eyepiece, Adapter ring, CR123A×2(unrechargeable)battery, ICR16340×2(rechargeable)battery,Bluetooth remote controller, Picatinny rail, Charger, Video cable (two in one, power supply & video output)
Application
Hunting
Outdoor observation and aiming
Wild Adventure
Law Enforcement
Security, search and rescue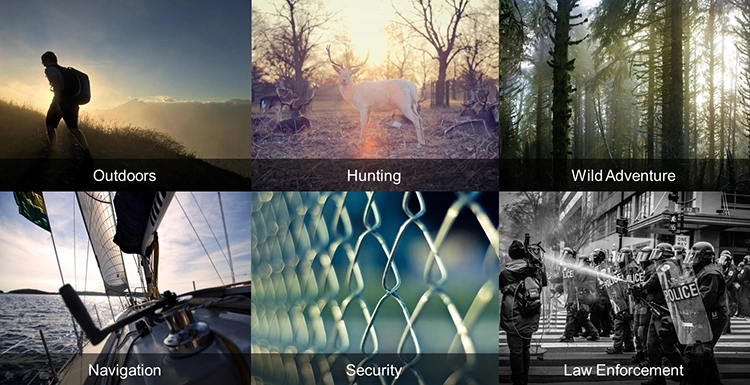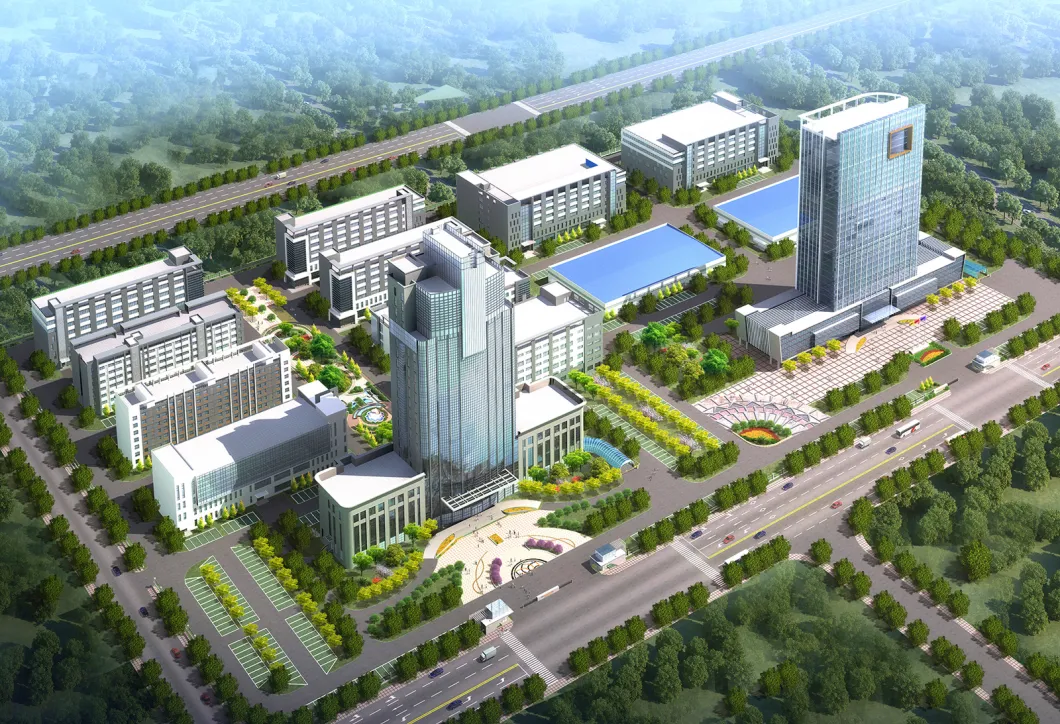 Guide Sensmart is the subsidiary of Guide Infrared, the world leading infrared thermal imaging systems provider. Leveraging the company's 20 years' experience in the infrared industry and mass production capacity, Guide Sensmart develops affordable infrared thermal imaging cameras and solutions.
Intending to make infrared technology more friendly and accessible to the public, Guide Sensmart focuses on making everyday use products designed to make electric power inspection; facilities maintenance; industrial automation; fever screening; security monitoring; law enforcement; search and rescue, as well as outdoor night vision.